All sorts of ancillary stuff goes with flying microlights and open cockpit ultralights. We have used many types of gear at Caboolture Microlights which makes eminently qualified to know what works and what doesn't. Its true that we sell the following stuff but it was chosen as the best value otherwise we wouldn't be using it ourselves. And our prices are the cheapest you will find.
Flying Suits
Flying suits do far more than just keeping you warm in the aircraft – the best designed products have numerous handy spaces to stow essential gear and they also stop you losing phones, keys etc from your trousers. Besides being a major inconvenience, if they fall out they may go through the propeller. Some open cockpit pilots use "freezer" suits as a cheaper alternative but these are designed for people working in cold storage rooms i.e. doing physical exertion in a windless environment – the exact opposite of flying a plane.
In nearly 20 years of trike flying, I've used many different flying suits but now exclusively fly wearing Ozee Millenium flying suits. My first suit survived 3 months circumnavigating Australia, 2 months crossing Africa, numerous shorter expeditions and many hours of instructing. I don't believe you can get a better product so don't be fooled by inferior imitations!
British company Ozee have been making flying suits for 30 years and the Millennium incorporates CYCLONE outer fabric, a waterproof, breathable 2 ply tactel nylon, with DU PONT Teflon high tech fabric protector, which maintains its durability and high performance even after frequent machine washing. It has a thermal lining of 160grm Thinsulate quilting giving complete protection from the cold even at high altitudes and UK temperatures
The design features of the Millennium give the wearer complete freedom of movement, thanks to the cut of the sleeves no pull is felt under the crotch when the arms are raised above the head. The inverted pleat at the centre back panel gives extra upper body movement and comfort. The front 2 way, full length moulded zips make the suit easy to put on and off and with the stud and Velcro ankle straps, no tension is placed at the bottom of the zip.
Pockets have been positioned to give easy access whilst flying. The expandable chest pocket with aerial cut outs and Velcro flap accommodates most hand held radios. The zipped chest pocket gives ample storage room. Two deep hand pockets are also zipped for added security. On the right leg is a Velcro fastened clear plastic reference pocket and another handy sized zip pocket with loops is on the left leg. Adjustable Velcro cuffs and high neck lines keep out the drafts and the suit is fully machine washable.
Each suit is made from two colour combinations. The primary colour is the colour of the legs, upper arms and torso. The secondary colour is the colour of pockets, flaps and the lower arms. The standard colour combinations are Navy / Yellow, Black / Red or Black / Silver. The suit is also available as Navy Blue Camo.
The Millenium is available in the following sizes and leg lengths (custom sizes available on request).
Chest Sizes: Small (85-90cm), Medium (100-105cm), Large (110-115cm), X Large (115-120cm), XX Large (120-125cm), XXX Large (125-130cm)
Colour: Navy / Yellow, Black / Red, Black / Silver, Navy Blue Camo
Leg Length: Small (72cm leg), Standard (77cm leg), Long (83cm leg)
Ozee also offer an unlined "Summer" suit for flying in tropical conditions.
Caboolture Microlights can order the Millennium Thermal suit of your choice at the cheapest price delivered direct to your door.
THe Millennium suit costs around AU$350 but the exact pricing will depend on the current Australian dollar/UK sterling exchange rate. We will quote you a GUARANTEED price at the time of ordering. Please transfer this amount to the specified account and advise the delivery address, contact phone number and the chest size, leg length and colour combination required. Delivery is usually within 2-3 weeks.
Trike Trolleys
At many airfields, especially around metro areas, finding space to hangar your aircraft can be a major drama. Although it may be possible to "hangar" your trike at home on a trailer its not as convenient to have to rig and derig it time you want to fly. Another advantage of trikes, compared to convetional fixed-wing aircraft, is that their wings are relatively high and can also be angled to clear other aircraft parked underneath. This could allow them to use space in hangars which would otherwise be unused. The problem though is to get them into and out of these spaces
Thats where our trike trolley comes into its own. Specifically designed for one person, roll-on, roll-off operation, it allows a fully rigged trike to be rotated and manouevered into limited hangar space. Constructed with lockable castors to maintain directional control and braked castors so it will stay part when parked. In our hangar it doubles the number of trikes we can fit in. Contact us for pricing and further information
Navigation / Books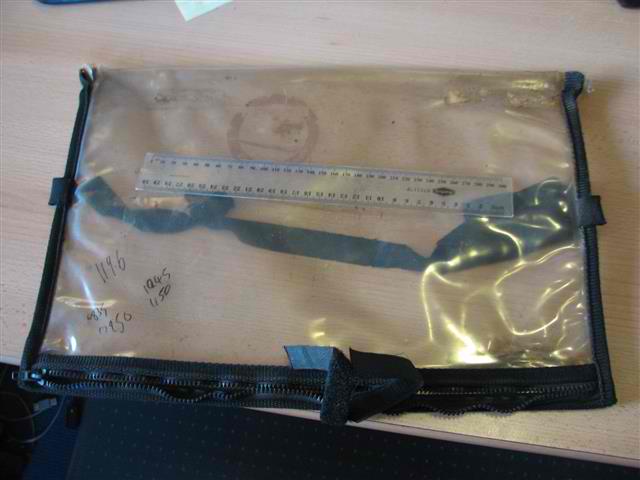 One of the, few, drawbooks of trikes (and other open cokpit ultralights) is that it makes navigation a bit more tricky. You can't simply refold your chart or refer to ERSA to find out a runway direction or airfield frequency. In the GA world it is common for pilots to use kneeboards but these have to be small so as not to impede movement of the control column. As trikes don't have control columns the solution is for us to use a mapboard custom designed for trikes which are large enough to accomodate all the information we need in flight.
Many of the commercially available trike mapboards are either A5 or A4 sized which is really too small for the size of flights modern trikes are capable of. Hence Caboolture Microlights have sourced an A3 sized alternative so your cross-country aspirations are not so limited
Contact us for pricing